Preflat z EVO, razmiar M - zielony
Preflat z EVO, razmiar M - zielony
Preflat z EVO,  rozmiar M - zielony
dla dzieci o wadze 7-10 kg
          Preflat z EVO – KoKoSi, to doskonały element chłonny systemu naturalnego i ekologicznego pieluchowania, jest idealnym i prostym rozwiązaniem dla rodziców którzy cenią wygodę, prostotę oraz oczekują efektu  nie angażując się w nadmiar pracy przy składaniu pieluszek tetrowych, prefoldów i innych wkładów. Znacznie ułatwia pieluchowanie osobom zaczynającym swoją " przygodę z wielorazówkami".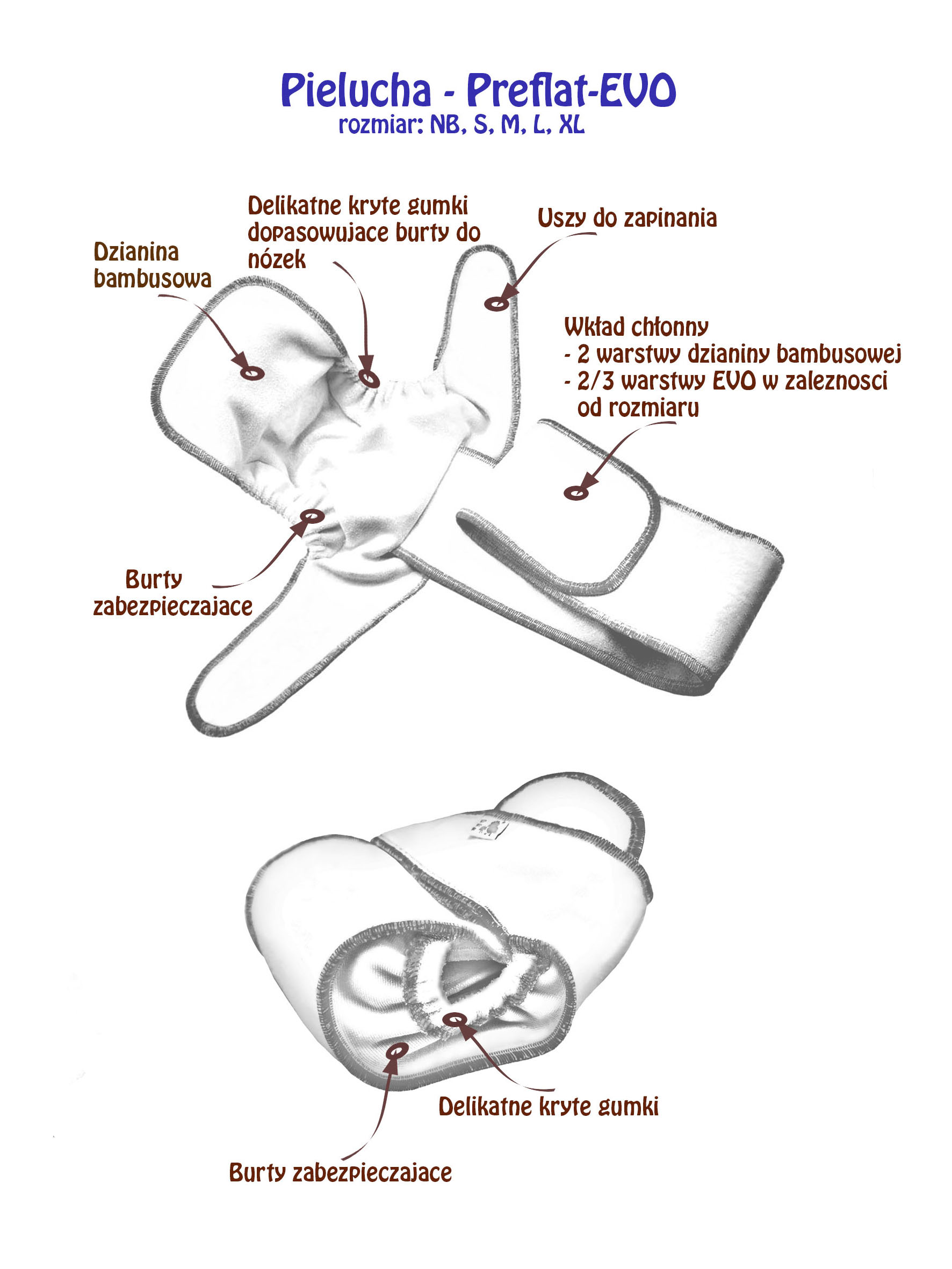 Nasze preflaty łączą cechy pieluszki formowanki oraz wkładu z burtami. Burty z delikatną gumką bardzo dobrze dopasowują się do nóżek maluszka oraz zapobiegają wydostawaniem się "kupki" na zewnątrz. Wkład chłonny od zewnątrz posiada warstwy dzianiny bambusowej a w środku 3 warstwy EVO - materiału o dużej chłonności ( w rozmiarze NB w środku wkładu są 2 warstwy EVO) gwarantuje to dużą chłonność i rozprowadzenie wilgoci przy relatwywnie niewielkiej wielkości.
          Preflat doskonale zastępuje pieluszki tetrowe  oraz formowanki, stanowi on bardzo dobry element chłonny, należy zatem zastosować dodatkowo warstwę  nieprzemakalną w postaci otulacza PUL, otulacza wełnianego lub Gatek.                             
Sposób prania i skład:
    Przed pierwszym użyciem pieluszkę należy wyprać, kilkukrotne pranie zwiększa chłonność pieluch.
PRANIE:  
Przed praniem usunąć zanieczyszczenia stałe. Prać w temperaturze 60⁰C. Używać delikatnych środków piorących. Nie wybielać, nie chlorować. Nie używać płynów zmiękczających. Dopuszczalne suszenie w suszarce bębnowej na programie do tkanin delikatnych, w niskiej temperaturze. Nie prasować.  
SKŁAD:
Z zewnątrz:  dzianina (bambus 80%, poliester 20%)
Wkład: dzianina (bambus 80%, poliester 20%)           
           EVO - 70% poliester/30% poliamid  
Pieluszki produkowane są w Polsce a materiały posiadają certyfikaty Oeko-Tex I Klasa, Przyjazny dla Człowieka oraz Bezpieczny dla Dziecka.