Zestaw chłonny KoKoSi, Wi-LenKo
Zestaw chłonny KoKoSi, Wi-LenKo
In a set
Wkład chłonny Wi-LenKo,  70x11cm                                     
                                                          (30% len, 70%wiskoza)  220g/m2       
          Wkład chłonny Wi-LenKo, to doskonały element chłonny systemu naturalnego i ekologicznego pieluchowania, jest idealnym i prostym rozwiązaniem. Wkład posiada 4 warstwy dzianiny len/wiskoza, uzyskujemy dużą chłonność   nie angażując się w nadmiar pracy przy składaniu pieluszek tetrowych, prefoldów i innych skomplikowanych wkładów. Znacznie ułatwia pieluchowanie osobom zaczynającym swoją " przygodę z wielorazówkami".       
Połączenie lnu z wiskozą to stosunkowo nowy produkt, ale Jakże Udany!!!      
Tkanina spleciona w 30% z lnu i 70% z wiskozy zachowuje właściwości obu tkanin, jest przewiewna i elastyczna oraz dużo bardziej odporna na zagniecenia. Wiskoza to włókno tworzone z celulozy pozyskiwanej z masy drzewnej! Ma wyjątkowe właściwości, jest niezwykle lekka i gładka, a dzięki naturalnemu pochodzeniu jest oddychająca i bardzo chłonna.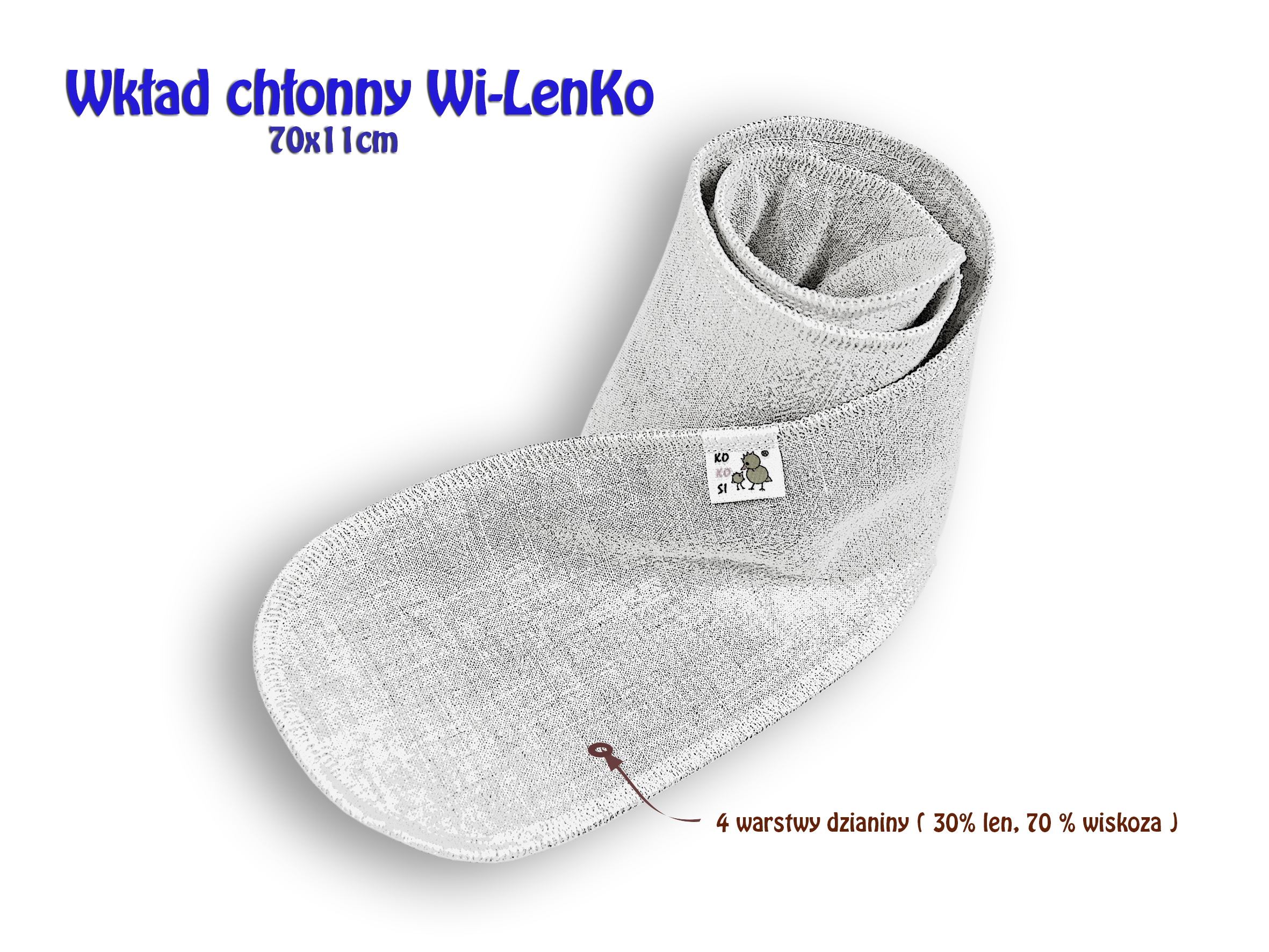 Sposób prania i skład:      
Przed pierwszym użyciem wkład należy wyprać, kilkukrotne pranie zwiększa chłonność.
PRANIE:  
Przed praniem usunąć zanieczyszczenia stałe. Prać w temperaturze 60⁰C. Używać delikatnych środków piorących. Nie wybielać, nie chlorować. Nie używać płynów zmiękczających. Dopuszczalne suszenie w suszarce bębnowej na programie do tkanin delikatnych, w niskiej temperaturze.
Nie prasować.  
SKŁAD: dzianina (len30%, wiskoza 70%)
Wkłady produkowane są w Polsce a materiały posiadają certyfikaty Oeko-Tex I Klasa, Przyjazny dla Człowieka oraz Bezpieczny dla Dziecka